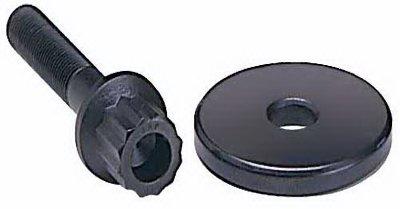 ARP Ford Balancer Bolt Kit - 150-2501
Only 1 left in stock, order soon!
Regular price

$28.03

Sale price

$24.80

Unit price

per
This Item May Qualify for Free Ground Shipping!
Click here
for more information
ARP Ford Balancer Bolt Kit
ARP Ford Balancer Bolt Kit
Whether its for a full rebuild or some standard maintenance, the proper engine components are needed to make sure your vehicle is running smooth.
Keep your car's components and accessories held together and looking nice with a quality set of hardware.
They say that to be successful you must identify a need and satisfy it. Back the early 1970s, racing enthusiast Gary Holzapfel saw that many of his friends' broken engines were caused by fastener failure. At the time, there were no commercially available studs and bolts up to the challenge. So Holzapfel called upon his many years of fastener making experience for a leading aerospace subcontractor and founded ARP (Automotive Racing Products). In the ensuing years, the firm has grown from what was literally a backyard garage workshop into a highly diversified manufacturer with seven operational entities in Southern California with a combined area in excess of 200,000 square feet. These include forging, heat-treating, machining, quality control finishing and packaging/warehousing facilities in Santa Paula and Ventura, California.
Let us help find the wheel setup right for your vehicle!
Do you want to find matching rear wheels?
<Beta V2.0>
Find the right wheels for your ride!
Find the right wheels for your ride!
With thousands of wheel options in our catalog, let the team at throtl help you find the right wheels that fit both your budget and your car.
We could not verify fitment
Let us help find the wheel setup right for your vehicle!
What are you shopping for?
(EDIT)
Square?
A square wheel setup refers to having all four wheels with the same dimensions
Staggered?
You have different-sized wheels on the front and the back
Shopping for all four wheels today?
ARP Ford Balancer Bolt Kit - 150-2501
Regular price

$28.03

Sale price

$24.80

Unit price

per

Sale
Product Description
About the Brand
Reviews
From the Garage