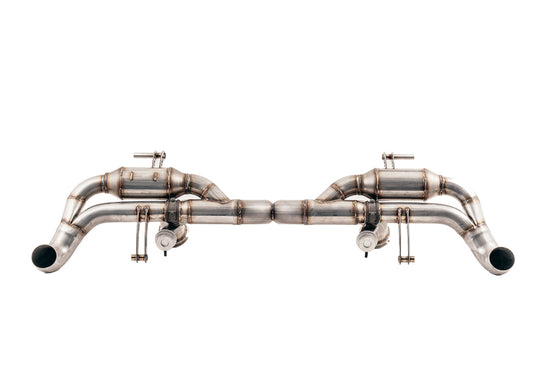 AWE Tuning Audi R8 V10 Spyder SwitchPath Exhaust (2014+) - 3025-31030
Regular price

$8,415.79

Sale price

$7,995.00

Unit price

per
FREE Ground Shipping on All AWE Tuning products! Automatically applied at checkout. (Domestic US Only)
AWE Tuning Audi R8 V10 Spyder SwitchPath Exhaust (2014+)
While the mufflers are small, coupled with the small diameter exit tubing on that channel and our h-pipe balance section, a sweet, higher pitched exotic sound is produced that tends to be much more naturally pleasing to the ear. Unlike other systems on the market, the AWE R8 V10 SwitchPath™ Exhaust is bespoke for the V10 engine, and not just a repurposed R8 V8 system. Designed with the unique sound characteristics of the 5.2L V10 in mind, hundreds of hours of development and sound tuning were invested to unlock the perfect combination of exhaust tone, sound volume, and practicality. This is an unmatched piece of performance engineering. Important notes: - These exhaust products are for racing use only. - Customers with S Tronic cars must also purchase the Audi R8 S Tronic Exhaust Fitment Kit Civil. And disobedient. All in one.
AWE SwitchPath™ Exhaust for Audi R8 V10 Spyder (2014-15). AWE Tuning Audi R8 V10 Spyder SwitchPath Exhaust (2014+). SwitchPath™ Exhaust
Exhaust systems are a great way to enhance the looks, sounds, and performance of your vehicle.
Replacing the OEM catback on your car is one of the first modifications we recommend to any new car enthusiast. Replacing the OEM catback with an aftermarket exhaust system is a great way to increase horsepower, style, and the sound of your car.
NOT CARB-APPROVED. ILLEGAL TO USE OR INSTALL IN CALIFORNIA. IF YOU LIVE IN CA, WE CANNOT SHIP YOU THIS ITEM AND YOU WILL BE CHARGED A 10% CANCELLATION FEE IF YOU ORDER. PLEASE LOOK FOR OTHER PRODUCTS WITH CARB APPROVAL.
Installation Instructions
AWE has one vision: To Unlock Performance. From award-winning handcrafted performance exhausts to track-tested carbon fiber intakes and performance intercoolers, AWE innovates, designs, manufactures, retails and distributes AWE brand performance products globally through its preferred network of dealers, online and from its state-of-the-art headquarters outside of Philadelphia, Pennsylvania. Since 1991, AWE's elite team of researchers, engineers, innovators and drivers have track-tested and introduced premium performance upgrades for some of the finest automobiles in the world.
2014 Audi R8 Spyder
2015 Audi R8 Spyder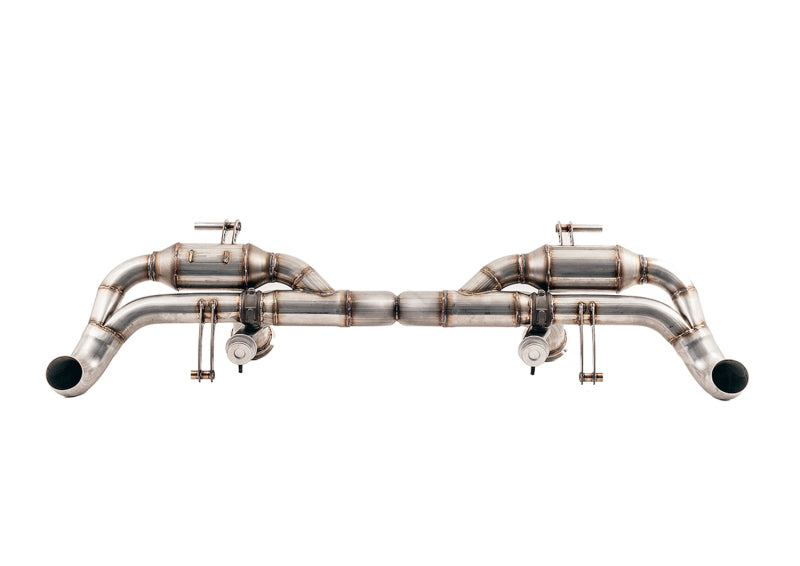 Let us help find the wheel setup right for your vehicle!
Do you want to find matching rear wheels?
<Beta V2.0>
Find the right wheels for your ride!
Find the right wheels for your ride!
With thousands of wheel options in our catalog, let the team at throtl help you find the right wheels that fit both your budget and your car.
We could not verify fitment
Let us help find the wheel setup right for your vehicle!
What are you shopping for?
(EDIT)
Square?
A square wheel setup refers to having all four wheels with the same dimensions
Staggered?
You have different-sized wheels on the front and the back
Shopping for all four wheels today?
AWE Tuning Audi R8 V10 Spyder SwitchPath E...
Regular price

$8,415.79

Sale price

$7,995.00

Unit price

per

Sale
Product Description
About the Brand
Reviews
From the Garage