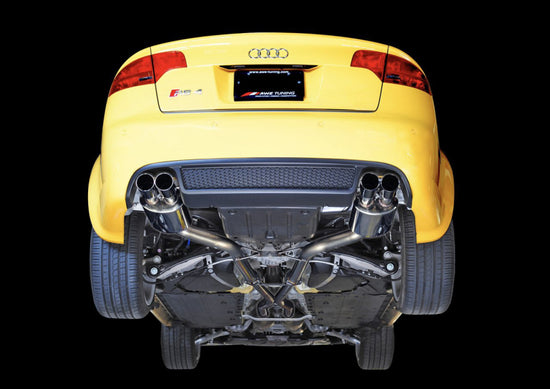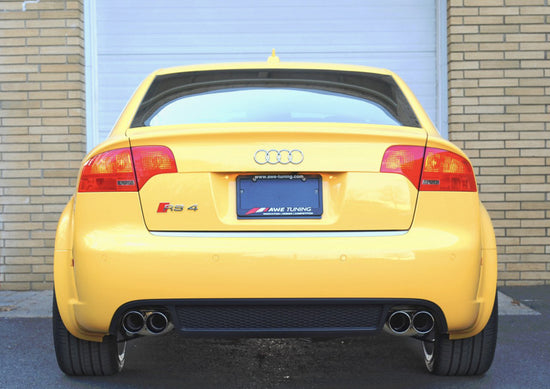 AWE Tuning Audi B7 RS4 Touring Edition Exhaust - Diamond - 3015-43034
Regular price

$3,047.37

Sale price

$2,590.26

Unit price

per
FREE Ground Shipping on All AWE Tuning products! Automatically applied at checkout. (Domestic US Only)
AWE Tuning Audi B7 RS4 Touring Edition Exhaust - Diamond Black Tips
Your RS4 is a highly engineered performance machine and deserves an exhaust system designed with the same attention to detail. Sophisticated CAD modeling software allowed us to create a system that performs and sounds worthy of this autobahn stormer. Our exhausts have earned praise from owners and the press alike, due to their unique "Jekyll and Hyde" personality. We spend considerable time and effort during development to achieve remarkable civility when idling and at part throttle cruising, while also producing a war-cry wail when full throttle is applied. Our exhausts are like bespoke suits: each is hand made utilizing only the finest casing and packing materials, and they command respect without calling unwanted attention to themselves. Sophisticated, refined, and powerful, all at once. If you love the sound of an muscular V8, but need something more manageable for transporting clients, go with our Resonated exhaust system. If you want to bask in the sound of your V8 and enjoy a loud exhaust note, choose our Non-Resonated exhaust system. Our Non-Resonated system is as aggressive as it gets! Here are some of the highlights of our RS4 Exhaust system. Each feature was chosen for performance and longevity reasons, and when making your exhaust decision you should settle for nothing less: The Catback system is topped off with our gorgeous 3.15" (80mm) slash-cut exhaust tips. The tips sport engraved AWE logos and are double walled to ensure a mirror polish even under hard usage.
AWE Tuning Audi B7 RS4 Touring Edition Exhaust - Diamond Black Tips. AWE Touring Edition Exhaust for B7 RS4 - Diamond Black Tips. Touring Exhaust
Exhaust systems are a great way to enhance the looks, sounds, and performance of your vehicle.
Replacing the OEM catback on your car is one of the first modifications we recommend to any new car enthusiast. Replacing the OEM catback with an aftermarket exhaust system is a great way to increase horsepower, style, and the sound of your car.
Installation Instructions
AWE has one vision: To Unlock Performance. From award-winning handcrafted performance exhausts to track-tested carbon fiber intakes and performance intercoolers, AWE innovates, designs, manufactures, retails and distributes AWE brand performance products globally through its preferred network of dealers, online and from its state-of-the-art headquarters outside of Philadelphia, Pennsylvania. Since 1991, AWE's elite team of researchers, engineers, innovators and drivers have track-tested and introduced premium performance upgrades for some of the finest automobiles in the world.
2007 Audi RS4 Base ( door , HP Cylinder L, speed )
2008 Audi RS4 Base ( door , HP Cylinder L, speed )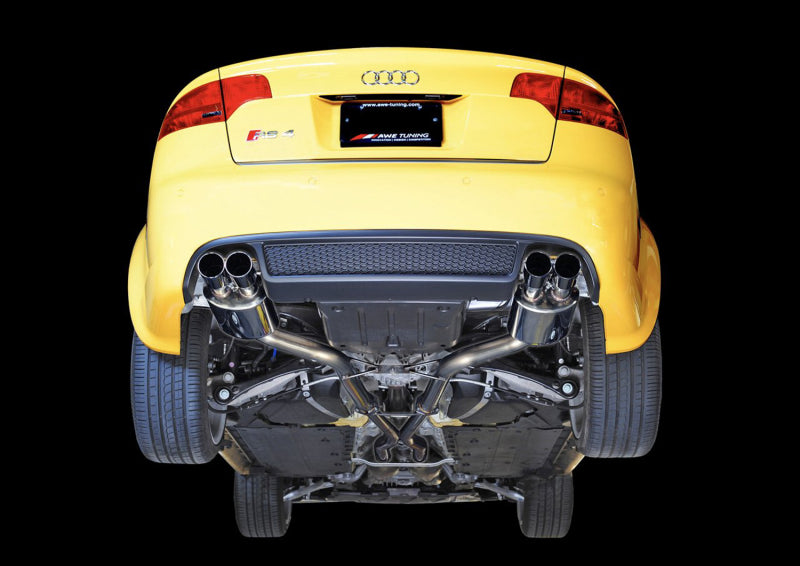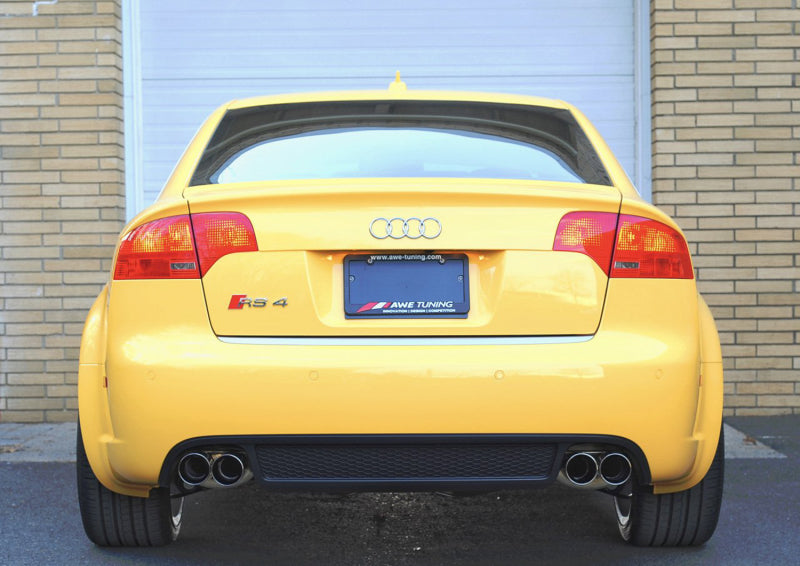 Let us help find the wheel setup right for your vehicle!
Do you want to find matching rear wheels?
<Beta V2.0>
Find the right wheels for your ride!
Find the right wheels for your ride!
With thousands of wheel options in our catalog, let the team at throtl help you find the right wheels that fit both your budget and your car.
We could not verify fitment
Let us help find the wheel setup right for your vehicle!
What are you shopping for?
(EDIT)
Square?
A square wheel setup refers to having all four wheels with the same dimensions
Staggered?
You have different-sized wheels on the front and the back
Shopping for all four wheels today?

AWE Tuning Audi B7 RS4 Touring Edition Exh...
Regular price

$3,047.37

Sale price

$2,590.26

Unit price

per

Sale
Product Description
About the Brand
Reviews
From the Garage