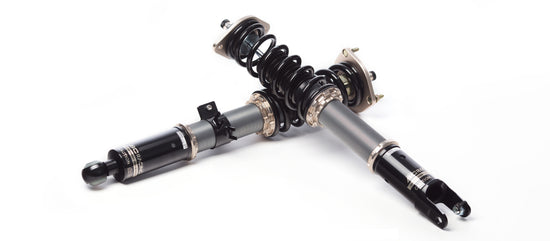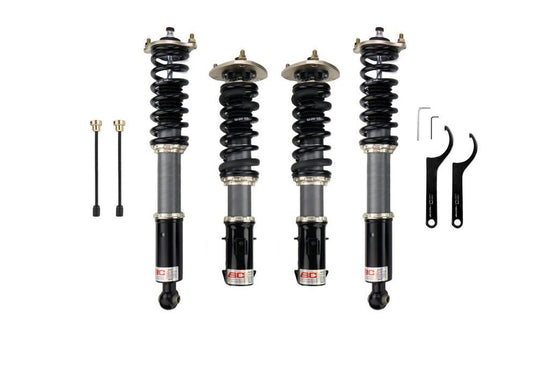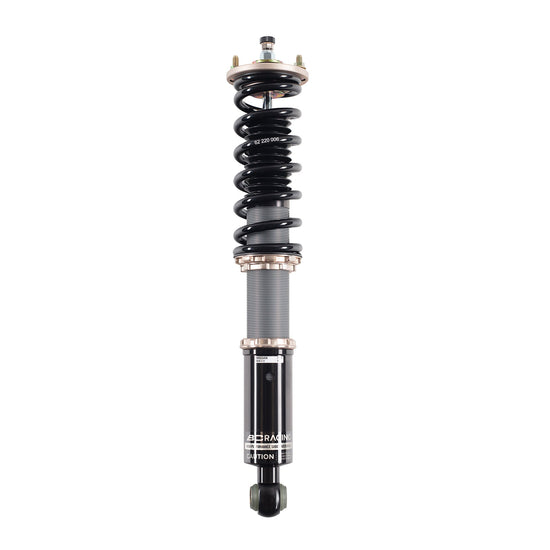 DS Series Coilover BMW 3 Series M3 1985-1992 - I-24-DS
Regular price

Sale price

$1,395.00

Unit price

per
This Item May Qualify for Free Ground Shipping!
Click here
for more information
E30 M3 | DS Series Coilover BMW 3 Series 1999-2028 - I-24-DS
BC Racing understands that every car enthusiast has their own vision and passion for automobiles and from that passion they wish to express their own uniqueness through their personal vehicle. For many people, having suspension is far more important than a body kit or paint job, its a means to improving the driving experience. Many times suspension companies develop new products that do just that - improve the driving experience - but they limit the production of those handling goodies to a few select vehicles and make the price unattainable to the average enthusiast. Well BC Racing took a hard look at the suspension market and set out to break that evil tradition with the BC Racing DS Series Coilovers. The DS Series Coilovers use a proprietary digressive piston design that offers the driver increased damping force at low speed piston velocities, which is what the driver actually feels when attacking their favorite track or twisty mountain road. For many decades in the racing industry its been the standard for drivers and engineers to examine low speed piston velocities (0mm/s to 50mm/s) and interrupt those figures as driver feel (they are also analogous to movement of the sprung mass of a vehicle, i.e., the body). Low speed piston velocities refer to the speed at which the damper piston is compressing and rebounding from 0mm/s to 50mm/s on a Force vs. Velocity Curve (more commonly known as a shock dyno graph). To evoke the passion for driving that all automotive enthusiast have embedded in their DNA, BC Racing took the best features from our BR Series Coilover, engineered components to improve driver experience, conducted in-house testing, approved the product, determined a reasonable, affordable price, and proudly present our BC Racing DS Series Coilover for 350+ vehicles, from the Toyota Camry to the Nissan GT-R and beyond, BC Racing has a DS Series Coilover system for you. The DS Series is available for a vast number of vehicles and with that we offer an equal number of customization options as well. The BC Racing DS Series Coilover can be customized for every type of racing imaginable, from the weekend track warrior to the full time race car, we can help you design a system that is right for driving style, track, tire life goals, and alignment adjustment needs. This means BC Racing can customize the DS Series Coilover with spring rates, spring lengths, shock body and piston shaft lengths, as well as alignment tools such as camber and caster adjustable top mounts. All at a reasonable price that leaves you with funds for other performance parts to enhance your driving experience. BC Racing Coilovers: breaking barriers, breaking evil traditions, not breaking the bank.
Highly Customizable
Mono-Tube Shock Design
Digressive Piston And Damping Curve
Satin Chrome Finished Shock Body
Height Adjustment Independent Of Spring Compression
30-Clicks Of Simultaneous Compression/Rebound Adjustment
Front Camber Plates Standard On Applicable Kits
Rear Camber Plates Available For Applicable Kits
Custom Spring Rates And Swift Springs Available
Custom Valving Or Valving Paired For Custom Spring Rates
1-Year Warranty Against Manufacturers Defect
Fully Rebuildable
Contact Customer Support for custom spring rates, swift spring upgrades, as well as other optional customizations that may be available for this product.
FREE Ground Shipping on All BC Coilovers! Automatically applied at checkout. (Domestic US Only)
All prices, specs, fitment, and drop are subject to change without notice
All kits are 2WD unless specified AWD
Some RM Series & Most ER Series systems use different spring rates than BR Series. Please inquire if necessary.
Notes regarding electronic damping (EDC, DDS, etc.) pertain to physical fitment only. BC Racing kits DO NOT interface w/ OEM electronic damping control systems.
BC-Racing was founded back in 1999 in Nantou, Taiwan, with the first BC-Racing coilover to debut in Taiwan in 2003, which was then made available worldwide in 2004. BC Racing Coilovers are highly customizable to allow all end-users to purchase the perfect setup for their specific needs. BC Racing understands that each driver and each vehicle have different needs. To allow customers to see their projects come to fruition, exactly how they evensong them, BC Racing offers complete customization of all coilover systems. Each coilover can be ordered with custom spring rates, damper lengths, valving, braided line lengths for double and triple adjustable coilers, camber / caster plates, and proprietary 62 ID Swift Springs.
1988 BMW M3 Base
1989 BMW M3 Base
1990 BMW M3 Base
1991 BMW M3 Base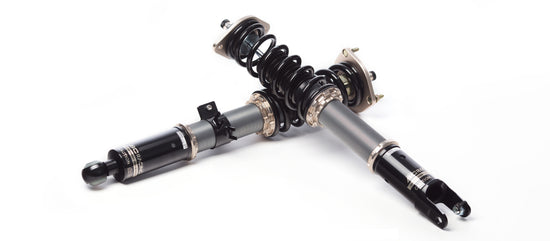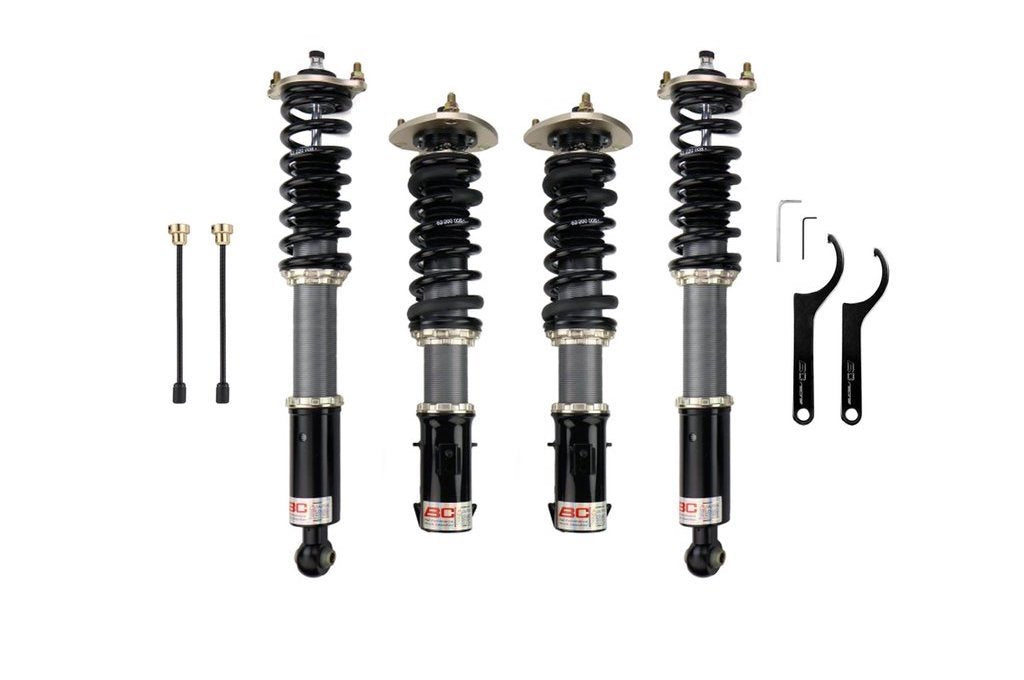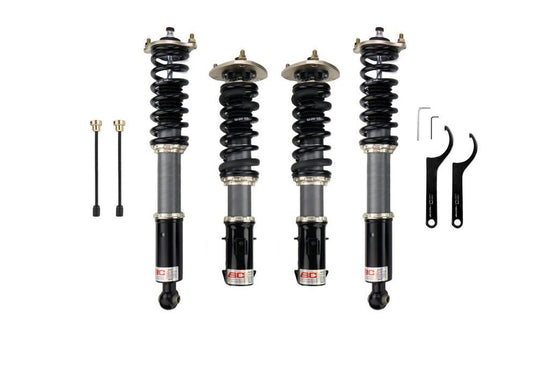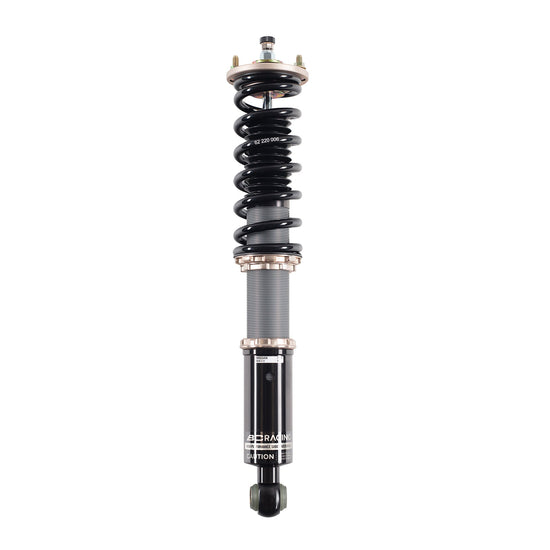 Let us help find the wheel setup right for your vehicle!
Do you want to find matching rear wheels?
<Beta V2.0>
Find the right wheels for your ride!
Find the right wheels for your ride!
With thousands of wheel options in our catalog, let the team at throtl help you find the right wheels that fit both your budget and your car.
We could not verify fitment
Let us help find the wheel setup right for your vehicle!
What are you shopping for?
(EDIT)
Square?
A square wheel setup refers to having all four wheels with the same dimensions
Staggered?
You have different-sized wheels on the front and the back
Shopping for all four wheels today?
DS Series Coilover BMW 3 Series M3 1985-19...
Regular price

Sale price

$1,395.00

Unit price

per
Product Description
About the Brand
Reviews
From the Garage